Welcome to BrickMoJo.net!
Thanks for visiting our website. First, please know that the typical content of this website is designed primarily for non-Catholics and contains "salty language".
We promise everything on this page is rated PG and should be suitable to most audiences, but that is NOT the case with the rest of this website or its content!
Please use caution if you are sensitive to language and choose to explore the remainder of this website.
The Mother Joseph Page
and the
Blessed Emilie Gamelin Page
of this website are also completely PG content for you to explore -
look for the Black & White icon in the top right to confirm Family Friendly Pages!
That being said, it has never been our intention to "rock the boat" when it comes to Mother Joseph and the Sisters of Providence, but rather attempt to communicate their awesomeness to a wider non-Catholic audience. SJ (also known as Sara) came to know Mother Joseph from their interest in history and architecture. Somehow our research and work caught the attention of some people at Providence who have now become friends of Two Witches Podcast. This page was created in response a request from our friends at Providence to adapt our content for a more general audience, and it was a honor to do so. We are two ex-Catholics that have a huge respect and admiration for
Blessed Emilie Gamelin
and
Mother Joseph
.
Watching
"Les Discretes"
(a documentary about the
Sisters of Providence from Montreal
) made it clear to both Andrea and SJ that Mother Joseph and Emilie Gamelin were open minded enough to interact with people that consider themselves "Two Witches," and we hope that since you're a fan of theirs you won't let that bother you either. Additionally, you may hear us call Mother Joseph of the Sacred Heart "MoJo" - this nickname is said only out of love and affection for whom SJ considers their Spiritual Mother.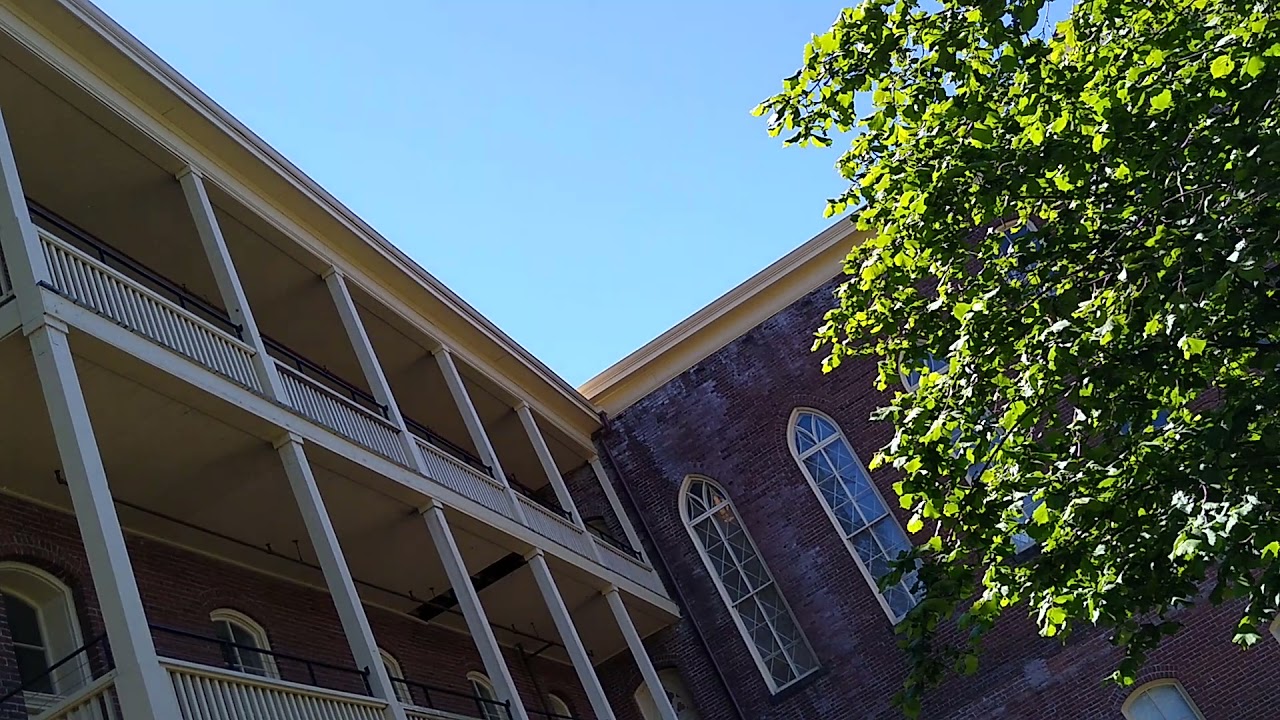 A Virtual Tour of the Providence Academy
Welcome to Mother Joseph's house, the Providence Academy in Vancouver, Washington. We hope we can adequately communicate how special this place is and why it deserves to be cherished and protected for generations of future visitors to enjoy.
Welcome To MoJo's House. Her Touches Are Everywhere.
For those of you unfamiliar with our regular content, yes - this building first caught our attention because it is what we would call haunted. What we call "haunted" and why we are interested this aspect of the building may be a lot different than what you've seen people do on popular TV shows or in popular media - which is basically yell at dust particles in the dark. The haunting here is one small facet of what makes this amazing place so special to us both. We believe that this space is still active because of its age and importance. The labors of love that Mother Joseph and her Sisters created here are still accessible to the site's visitors. The space is simply still very busy. If you think about what happened in this space, who lived here, and why the building was even erected, you realize that
there is nothing scary about what is happening here
. We hope that when the video tour is released we can adequately communicate our love and respect for this building, and try to change the idea of what a "haunted" space should be used and celebrated for. This sacred space is a living, breathing history lesson. The Providence Academy and its Foundress Mother Joseph of the Sacred Heart should always be treated with respect and the building continually honored for its original purpose.
- SJ (Sara) and Andrea, Two Witches.
The Academy Chapel With a "Haunted Bell".
When the Sisters of Providence sold the Providence Academy in the 1960s it was facing demolition. Robert Hidden, grandson of L.M. Hidden - who founded the Hidden Brick Company at Mother Joseph's request in 1871, saved the Academy from the wrecking ball with the financial help of two of his sons. Robert's sister even described the building as "Bob's Money Pit" in the local press. Yikes!
Fortunately for us all, in the 1960's Robert began restoring the Providence Academy and turned it into a mixed use office building. Robert and his wife Margaret went to Seattle to bring back the pieces of the Providence Academy's chapel (Mother Joseph's woodwork) that the Sisters and had taken with them. The altar and other pieces inside the chapel are on "permanent loan" from the Sisters as long as the Providence Academy building remains standing in Vancouver.
The Truth About The Chapel's Bell.
Another item brought back to Vancouver includes the original Providence Academy chapel's bell, which weighs over 300 pounds! SJ can tell you, you have to get some momentum going to ring it loud and proud!
Mother Joseph originally sourced this bell from Troy, New York and it was taken to Issaquah, Washington for safekeeping when the Academy closed in 1966. Tragically, the pilots that were flying the bell back to Vancouver in February 1975 perished in a terrible crash when their helicopter hit the side of a mountain near Chehalis, Washington. There is an urban legend that the bell itself is "haunted" from the terrible and bizarre accident, and an additional grisly story linked back to the Academy's belltower has no factual basis.
The real story behind the return of the bell to the Providence Academy is the one we should all remember.
Every time SJ talks about the bell she always says a little prayer for the two men -
Captain Arnold J. Kraushaar
of Molalla, Oregon and
Sargeant DAC William L. Kinsey
of Vancouver - who lost their lives bringing this historic treasure back to its original home.
We'll have another look at the chapel from the upstairs balcony too - but let's head next door for now to the elevator.
Inside Mother Joseph's Room.
Finally in April 2021, SJ was able to get inside what is now Suite 208 - Mother Joseph's personal quarters. They had ALL the feelings. This is the small room where she died in 1902, surrounded by her Sisters. The hole that was carved out of the wall so she could still attend church services as she suffered in her bed is still visible inside. Until very recently this suite was still in use as a Counseling Office, mainly to help heal traumatized women and families. It seemed appropriate that this was the room people went to for comfort, even if they had no idea the sacred space they were sharing their deepest pain in once was the quarters of a remarkable woman who dedicated her entire life to serving others.
The "Infamous" Haunted Top Floor.
Most of the "ghostly" activity in this building is reported on the third floor. Again, if you think about what this part of the building was used for over time it makes sense that it is still a busy part of the facility. Throughout the centuries this space has been used as nuns' quarters, classrooms, held rows of bunks for boarders, and was the location of the first indoor plumbing. This is also the first part of the building the Sisters were able to move into back in the earliest days, when the building was still without doors and windows. This space has seen a lot of activity over the years.
Only Mother Joseph's smart construction and their bodies huddled together for warmth got the Sisters and their charges through that first harsh winter at the Providence Academy. It would make sense this upper part of the building is where flashes of their handsome black and white habits are most frequently seen out of the corner of your eye, or a child's sweet giggle is heard in an empty room. Just like the graffiti in the bell tower says:
"Mother Joseph was here before any of you!"
We find it comforting, not scary, to think that she still might be here to watch over her building.
Welcome to the Gorgeous Decay of the Top Floor.
The Ballroom and History Display.
Outside the Ballroom (which is underneath the chapel) there is a handsome window display with artifacts and photos of important local people that were part of early Vancouver's history and linked to the Providence Academy. It is definitely worth checking out when you visit.
The Basement - Mother Joseph's Workshop.
Mother Joseph's workshop was on the other side of the building in the basement, but the space is similar to this (still unable to be opened to the public.) SJ's spouse Dave is exactly 6 feet tall, Mother Joseph's height. It was surprising to see how close to the ceilings her head would have been as she would have been bustling through the area at her fast pace, as she was always known to do. A local "ghost hunting" group spent a lot of time here in the early 2000s and claimed it was among the scariest parts of the building. We have no idea what they are talking about, as this is one of our favorite spots in the building and never have gotten a single bad feeling spending time here - in fact, it's Andrea's favorite part of the entire Providence Academy site.
The Laundry Room, Boiler Room, and Smokestack. Sadly Slated For Demolition.
In May 2021 the
Aegis Development project
began Phase One construction. Already old trees from the original footprint have been lost. Phase Two of this project will result in the loss of the Laundry and Boiler rooms and the beloved Smokestack. The cross-shaped lighting fixture the construction crew set up is particularly poignant when you remember who built this building and why. What a sad loss for the community.
St. Joseph's Hospital - First in the Pacific Northwest.
The first hospital in the Pacific Northwest (Peacehealth's Start!) was built by Mother Joseph in 1858 at Fort Vancouver. That first 16 X 20 building was eventually moved to the site at the Providence Academy, where it was demolished in 1930. The sisters bought a parcel of land at 9th and Reserve and Mother Joseph converted the existing structure into a larger hospital. They moved into this building on September 22, 1866 - 9/22 is SJ's birthday, which is fun! This second hospital burned on September 1, 1878 and was re­built and this developed into what was the "old" St. Joseph's Hospital. That site is now the Hudson's Bay High School's track.
The final (fourth) and Hidden brick St. Joseph's Hospital was across 13th Street from the Providence Academy, where the Black Angus restaurant sits now. The community eventually outgrew the building and a larger facility was built. This current large, modern Peacehealth Hospital is now on a street called Mother Joseph Way in Vancouver, in honor of the hospital's Foundress.
Update: September, 2023 Demolition
Sadly, the Providence Academy Laundry, Smokestack and Boiler Room outbuildings were demolished under the authority of an incorrect type permit issued by the City of Vancouver in September, 2023.